Lockdown 2 is here but we are still working to give you the course dates you need. If you have time to spare, we are providing the First Response Emergency Care (FREC 3) in a modular format. Qualsafe, the Awarding Body states we can provide part virtual and Tutor lead learning via your PC to cover the theory modules and then attendance on-site at our training facility for two dates when it is safe to do so. You have twenty weeks to complete this prehospital care qualification. Below is an overview of the Modules and times available. You can book these here Alternatively, if it is easier select Modules that need to be completed from 1-10, then contact us at info@highpeakfirstaid.co.uk or 07931 360328 for direct access to a Tutor.
You can pay for all Modules or pay as you go. Once all 10 x 2hr Modules are paid for, the two on-site days are included at no extra cost. Originally, I was not convinced about blended learning. However, the feedback so far has been very positive. On booking, we give you access to our online learning portal to get ready for the Module. After this, you can go to the portal to consolidate learning before the next Module. You will also have access to our own flashcards, games and video's online, meaning there is something for all styles of learning.
We have FREC 3 Modules available from 0800hrs through to 2100hrs, seven days a week. There are other times available by discussion with our overseas or shift worker clients.
For more information call direct on 07931 360328 to speak to the course Tutor or use the chat button at the foot of each page. Lastly, you can use email at info@highpeakfirstaid.co.uk
The table below is an overview of all Modules available. You can book these here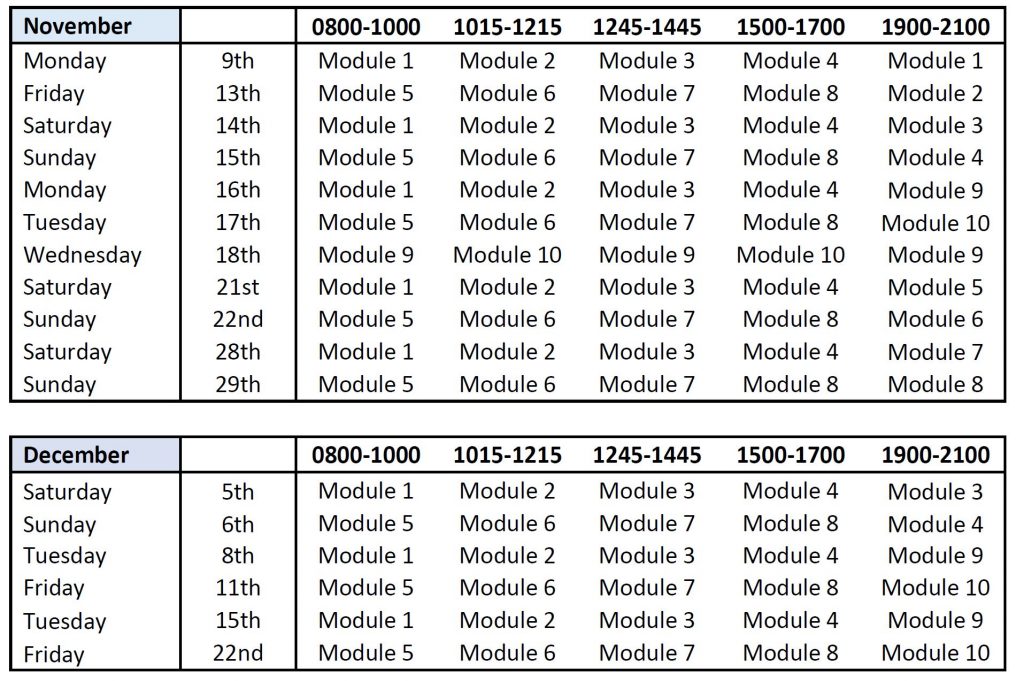 On-site dates are December 12-13, January 9-10, 11-12, 18-19 and 23-24. More dates will be added.